Our Strategy is Based on the Story of a Coconut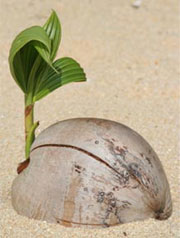 From a remote, unknown Southern island, a coconut begins an adventurous journey across the mighty ocean. For many days the coconut drifts among the blue ocean waves and finally arrives at an island. On this island it germinates, establishes and grows into a large coconut tree, which in turn produces coconuts that set out on their own adventurous journeys.
Our chemical manufacturing business resembles this story. Chemistry is an enormous ocean in which we strive to create business based on a technological concept, and encourage this business to grow. After a new business has matured it gives birth to new technologies, which in turn take up the challenge to take root and grow.
We at MGC envisage the growth of our business like the journey of the coconut, filled with dreams and adventure. This message and the image of a sprouting coconut embody our passionate commitment to create new value based on chemistry.